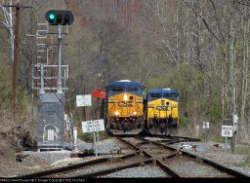 Welcome to the RRPictureArchives.NET contributor site of Rob Kitchen.



I took thousands of slides between the years of 1975 and 1989 covering most of the upper midwest.  I lived in Battle Creek and Houghton, Michigan, during the 1975 to 1980 time period.  During that time I took a couple of railfan excursions to the west as far as Grand Island, Nebraska, as well as trips to Green Bay, Wisconsin, and Sault Ste. Marie, Ontario.  I began work with the Rock Island in August of 1979 and stayed and helped clean up until late April of 1980.  After that, I spent seven years as a Roadmaster for the C&O in West Virginia.  I took a few railfan trips to the Chattanooga area, and made frequent trips to Bluefield, West Virginia.  After leaving the C&O, I moved to Hanover, Pennsylvania, and my railfanning activities began to slack off.  During the last couple of years of the 1980s my railfanning consisted of checking out railroad locations along the way from trips to and from my parents in Michigan.

On Christmas, 2004, I received a new digital camera and began taking railroad pictures again, and on Christmas, 2005, I got a flatbed scanner with a slide adapter so that I can scan my old slides.  I have begun sharing some of my railroad photographs on the web and appreciate the availability of this web site.  I am eager to correspond to other railfans from around the country.  Please feel free to drop me a line.

Rob Kitchen  -  Holly, MI

Click Here to view my photos at RailPictures.Net!

You may browse my collection of pictures via the menu located on the left hand side of the page. I hope you enjoy the collection and thanks for stopping by!